CCR&R 2019 Provider Update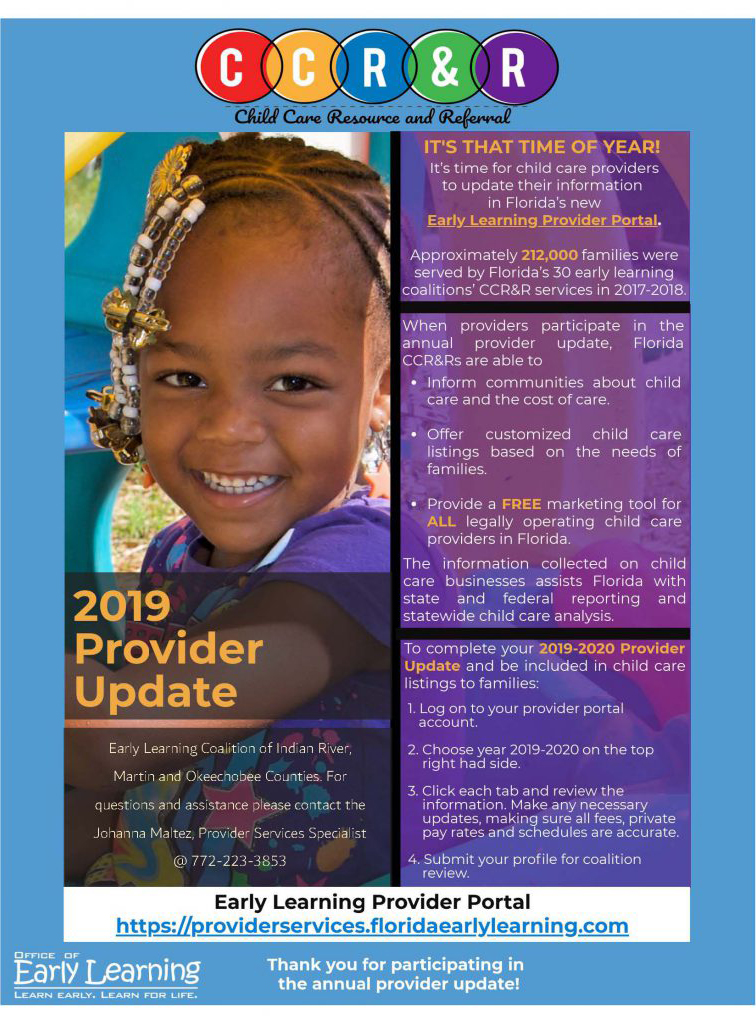 School Readiness Providers & CLASS Program Assessment
House Bill 1091 requires a Program Assessment to be conducted on all providers wishing to contract for the 2019-2020 School Readiness program. This applies to both existing providers who will be renewing their contract, as well as new providers interested in applying for the first time.
To receive a Program Assessment, providers must register all their instructors and classrooms into Florida's Office of Early Learning Program Assessment system. You will not be eligible to participate in the School Readiness Program for 2019-2020 if you do not complete the registration process.
To register, please visit https://earlylearningpfp.fldoe.org/Home/Welcome.
You will need your OEL Provider ID number and your Department of Children and Families' License or License Exempt number to register.
SR Attendance on the Provider Portal
School Readiness attendance is ready to be processed in the portal. Click Here for more instructions.
Potential Data Issues on the attendance roster – Click Here for more information
VPK Attendance on the Portal
Update: VPK Final Reimbursement Reports are available in the portal.
The Early Learning Coalition and the Office of Early Learning are pleased to announce that the VPK Attendance feature of the OEL Provider Portal is now available and operational.
Click to access Rule 6M-8.305, Florida Administrative Code: Rule 6M-8.305 Florida Administrative Code
For your convenience a step-by-step guidance on how to properly process your VPK attendance is available. Click link to access: Statewide Provider Portal – VPK Attendance Process
If you should have any questions or concerns , please contact your Reimbursement Data Specialist for assistance.
Provider Portal User Guide
Provider Portal User Guide
Provider Portal Access
Click here for more information